CONSIDER TO BE A COACH?
If you're a new coach, we know this can seem overwhelming, but don't worry. You don't need any technical skills, don't be nervous. One of the amazing things about participating in FIRST LEGO League is that you're now a part of our community, where teams and coaches are willing to help each other. With the e-mail address you supply, when registering a team, we can  frequently send you important info. We also have a Coaches and Mentor WhatsApp-group, where new coaches can ask questions and more experienced coaches can share their FIRST LEGO League knowledge. FIRST will also, send regular Email- Blasts to registered teams. If you need some advice, feel free to contact us – challenge@firstsa.org
Your team will do the work, with guidance from you and at least 1 other coach. As a coach you will receive a Team Meeting Guide, to help you with every practice session. So actually you will learn with your team. You only need to ask them a lot of questions and then, watch them…….GO!
FIRST LEGO League is more of a celebration than a "competition". We want everyone who participates – team members, coaches or event volunteers – to have a fulfilling experience. That's the reason we built FIRST  LEGO League upon a set of FIRST  CORE VALUES.
——————————————————————
How does it work?
A new and exciting challenge based on a real-world problem, is released every year, in the first week of August.
Teams can have up to 10 team members, although we recommend at least 4-6. 
For 2 learners it's just to much work, but on the other hand, with 10 learners in a team it is really difficult to keep them all equally engaged, at all times. 
Learners in FIRST LEGO League Challenge teams, must (on the 1st of January of the year they want to participate) be between ages 9 and 16 years old . 
Keep in mind that children can only be on one team, but a coach is allowed to have multiple teams.
Thank you for volunteering your time and energy to coach a First Lego League Challenge team! 
Challenge sets
If you have multiple teams, they can share one Challenge Set or they can each have their own. It's up to you!
You will need a meeting space that has room to set up the 1.2m x 2.5m playing field.  Every team will need a computer/laptop with internet access.
Robot Game
The Field Setup Kit is the playing field for the Robot Game. Depending on when you register and when the Challenge sets arrived in SA, you could receive your kit as early as July. As soon as you receive it, you can begin putting it together with your team, which is a great "team building" exercise, but you won't know what the actual game is until the Challenge is released in the first week of August.  To even the playing field, so to speak, all teams are granted access to the Challenge at the same time. Some Operational Partners host events to celebrate the release of the Challenge in their regions. Contact your Operational Partner for more information.
Project
You also won't find out what the specifics for Project is, until the Challenge is released in August. You know what the broader theme for the upcoming Challenge is! Your team can begin researching that theme, so that they can already have a better understanding of theme by the time the Challenge is released.
What do I do once the Challenge is released in August?
Your team needs to carefully read all the documents that pertain to the Robot Game and Project. They are available on our website! To get a sense of what these look like, you can see past Challenge documents here. You will need to download one document which explains the Project, plus some optional resources, but the Robot Game has a few components:
Missions
Rules
Game Rulings
The Missions and Rules are what your team needs to begin strategizing how to play the Robot Game. The Game Rulings are updated continually throughout the season to clarify questions we've received from other teams. It is important that you keep up with these rulings as they could affect how your team programs their robot.
TIP: Make one member of your team responsible for checking the Game Rulings and have him/her check the page at the beginning of every meeting.
What can I do with my team before the Challenge is released? 
Create a team identity – name, logo, team shirts, mascot
Fundraise or apply for grants – to pay for team shirts, any tournament fees, registration fee, etc.
Learn how to use your Robot Kit and make sure your team understand how the software works
Put together the Field Setup Kit
Begin researching the Challenge theme
Learn the FLL Core Values
Mentor  FLL Explore Team
Help promote   and the FIRST mission,
HAVE FUN! (Well, you can have fun AFTER the Challenge is released too.)
For more detailed descriptions and handy tips, about the Robot Game, Robot Design, Building and Programming(Click here)??
For more detailed descriptions about the Innovation Project and handy tips.(Click here).
For more detail about and handy tips, about the FIRST CORE VALUES
Innovation Project
Every year there's a new theme, about a real world problem. Teams need to do research about it and:
Identify a problem based on the annual theme.
Design an innovative solution to the problem.
Share the problem and solution with others – they need to speak to relevant experts or do field trips to relevant areas/companies.
On the tournament day, teams deliver a five-minute presentation to judges in which they demonstrate how they have identified, designed and shared their project.
A poster about their Innovation Project will make it easier to explain their Project Solution and can be display in their Pit Area to inform the public and other teams about their project.
Teams can build a prototype of the solution they have invented..
Robot Design and Programming
Teams must use a LEGO Mindstorms EV3 set or LEGO Education Spike Prime set, to design their own robot (and attachments) or adapt an existing design, to do the missions of the Robot Game.  A team need to strategise their Robot Game and do all the programming, before a tournament.
Teams will be judged against a set of Challenge Rubrics.
Robot Game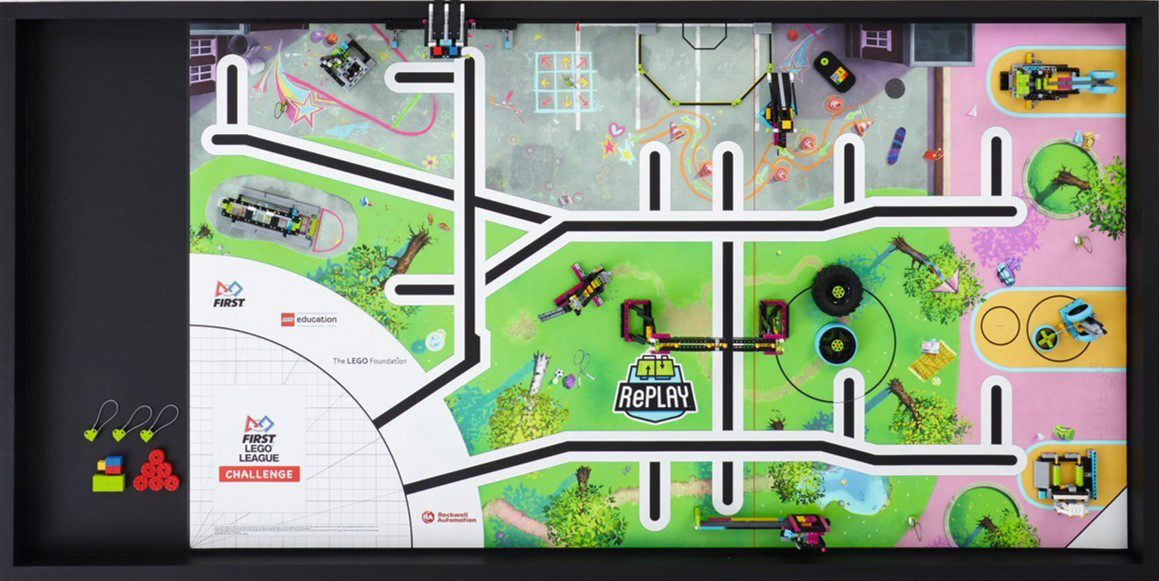 teams can only touch their robot in Home or Launch Area?
On the Event day, teams get three attempts at the Robot Games, only the highest score attempt, will be taken into account.
The autonomous robot will try to score as many points as possible in 1 Robot Game round.
The duration of 1 Robot Game round, is 2 and a half mins (150 sec)
The Robot Game Rulebook provides all of the Robot Game Rules and details on how to score points.
♦ Remember: During a Robot Game the robots have to do the missions autonomously.
How do I explain what I'm doing to others?
Here's some things that are unique about FLL: Anyone can coach. We really mean it! There's no technical background needed.
Yearly Challenges are based on "real world" scientific topics like Nanotechnology, energy, transportation, and accessibility. Teams are actually tackling the same issues as today's scientists and engineers!
Sure, children develop technical skills as a result of participating in FLL. But they also develop those important life and employment skills that will benefit them n FLLo matter which career path they choose. Brandeis University studies have shown that children who participate in FLL learn critical thinking, time management, collaboration, and how to communicate effectively, all while becoming more self confident.
Many children become interested in a career path related to one of the Challenge themes, in addition to sparking their interest in becoming the next generation of scientists and engineers. Teams also raise funds (Development), create a team name and identity (Marketing), and promote their activities (Advertising).
Teams can choose to participate in official tournaments, which are organized by our amazing volunteer network of Operational Partners around the globe, 
These events are celebrations of their accomplishments, both technically and personally.
Team activities are guided by a set of Core Values, including: We do the work to find the solutions with guidance from our Coaches and Mentors.
Operational Partners
Operational Partners are amazing people who VOLUNTEER to run the FLL program in a specific region. Please contact the Operational Partner in your area with any questions pertaining to official Tournaments and to be connected to a veteran coach. And please thank your Operational Partner for all they do!
Good luck!
Thank you again, for coaching an FLL team.