A Challenge team will need the following equipment:
Robotics kit -1 x  LEGO Education Spike Prime set.  LEGO Mindstorms EV3 set or LEGO Mindstorms Robot Inventor or older NXT or RCX sets can still be used.
Laptop or Computer
FIRST LEGO League Challenge set

∗

Robot Game Table 
Team clothes/shirts
Other
Robotics Kit
 Every team needs to buy their own Robotics kit.  Teams can use:  LEGO Education Spike Prime sets (Currently this is the only LEGO Robotics sets that can be bought.) LEGO Mindstorms EV3, LEGO Mindstorms Robot Inventor.  The older LEGO NXT and Lego RCX sets can still be use.
These robotics kits can be used for many years, so you don't have to buy a new one every year. 
You can buy these sets from the SA LEGO Education retailer: Hands on Technologies
EV3 sets abd Robot Inventor are no longer for sale in SA, but still can be used in First LEGO League Challenge Competitions.
LEGO Mindstorm EV3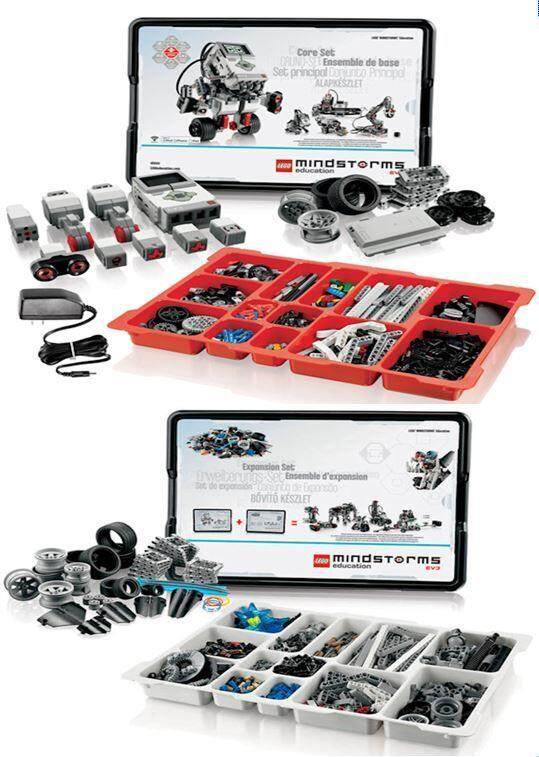 Lego Mindstorms EV3  set:
These sets are no longer for sale – discontinued.
But it still can be used in FIRST LEGO LEAGUE Competitions.
LEGO  Education Spike Prime
 Spike Prime set: 
 Teams with limited funds, can buy this set only,  they will be able to build a robot for the FIRST LEGO League season with that, although they will have limited extra parts. You may perhaps want to buy an extra sensor. Rechargeable battery and USB cable for charging included. 
Spike Expansion set: Can be bought if you want to build a more complicated robot.
LEGO Mindstorms Robot Inventor set can also be used by FIRST Lego League Challenge teams. 
These sets are no longer for sale – discontinued.
But it still can be used in FIRST LEGO LEAGUE Competitions.
Computer or Laptop 
Each team will need their own Bluetooth enabled computer, tablet or laptop  for programming and to do research on. Computers or laptops are more suitable for programming because the programs are easier to see on bigger screens.
The programming software is free and can be downloaded from:
https://education.lego.com/en-us/downloads/spike-prime/software
For software specifications go to the FAQ page. 
FIRST LEGO League Challenge set
Each year there is a new theme, with a new Challenge set. A Challenge set consists of a playing field mat and LEGO blocks used for building the mission models. Full building instructions will be provided to ensure all teams have the same mission models. Field set-up instructions will also be provided.  The Game Rules and Game play detail will only be released at the season launch.
∗ The Challenge set will be included in the full Registration fee
Game Table
A game table is needed so that the robot can be run safely during practice times. This table must be made to the specifications set out in the FIRST  Challenge Table Build Instructions so that your playing field mat can fit perfectly into it. The same size tables will be used at competitions as well, so please do your team a favour and make sure your table's size is correct.
However, if a team does not have a table when they start, they can put their playing field on the floor(smooth surface), against a wall and put some kind of walls (like planks) around the field.
♦ NB.  NEVER run a robot on a table that doesn't have walls or barriers. If the robot runs off the table, the Brick is unlikely to survive the fall and that can be the end of your robot and your team's Challenge season.
Team clothes/shirts
Teams need to display their unique identity by wearing customized shirts!!! Go wild and think of a way to create a unique identity!!!   Many teams have shirts with their team names and logo's on. Designs can be printed or hand-drawn. If you receive a sponsorship, you can also put your sponsors logo on your clothes.
This is your time to shine, what you wear is how other teams will remember you. Make funny hats, or get the whole team to wear tails, etc.  You can dress up what ever way you like, just make sure it is appropriate for competition day.
Other
Here is a list of materials or other things that a team may need in a First Lego League Challenge season:
Display/poster boards
Poster supplies like; coloured pens, coloured or white card boards, prestik, etc.
Printing for display board
Fuel costs for research field trips
Decorations for your Pit Area, on competition day
Materials to build a prototype of their Innovation Project solution 
Materials for team-building activities 
Hand-outs on Competition day(if any)
Perhaps the occasional cupcakes, chips or pizza.